The best AI website builders use the latest tools to leverage AI for crafting stunning, user-friendly sites.
Best Best AI website builders: quick menu
In today's technology-driven world, artificial intelligence (AI) has woven its way into various facets of our lives, revolutionizing how we create, design, and manage websites. AI-powered website builders harness the power of intelligent algorithms to simplify the website creation process. This allows users to craft professional-looking websites without the need for extensive coding knowledge or designer skills.
These intuitive platforms provide numerous benefits, such as time efficiency, personalized design suggestions, and responsive templates that adapt to various screen sizes. Moreover, they can empower users to create stunning websites without the need for specialized skills.
To find the perfect fit for you, we've personally tried out each website builder, experimenting with various site types and scrutinizing their features, customizability, user-friendliness, performance, SEO tools, customer service, pricing, and beyond.
Now, let's explore the world of AI-powered website builders and discover the perfect fit for your online project.
We've also featured the best free website builders.
Get in touch
---
The best AI website builders of 2023 in full:
Best overall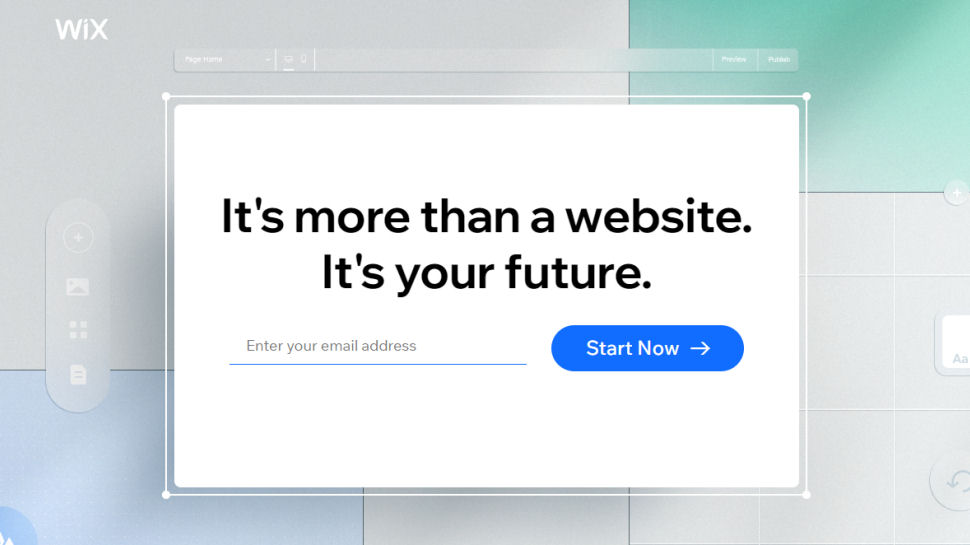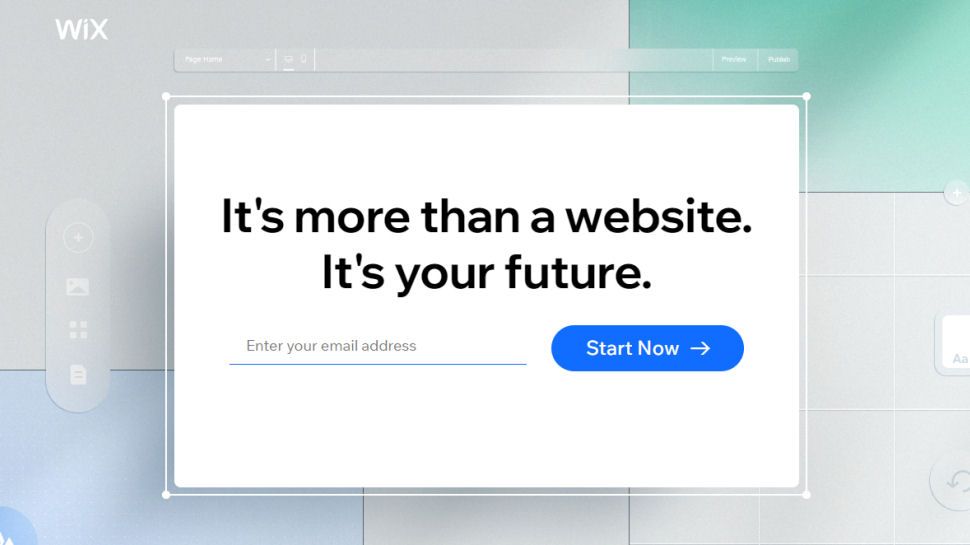 Wix ADI is a boon for beginners who want to create professional-looking websites without any coding knowledge. The platform offers AI-generated content, images, and design elements. This means you can have a unique and personalized website up and running in no time.
This solution also offers built-in SEO and content creation, making it easier for your site to rank high on search engines. This is an important feature for businesses looking to increase their online visibility and drive in more customers.
Moreover, Wix ADI offers a wide variety of templates to choose from. Whether you're building a personal blog, an online store, or a portfolio, you should find a template that fits your style and vision. And the best part is, you can customize these templates to match your brand's aesthetics even more. 
In addition to these features, Wix ADI also offers several advantages such as a website builder generator, a logo maker, a text generator, an image optimizer, and SEO. These features are sure to make your web-building experience even better
The website builder generator allows you to create a website in a few clicks. The logo maker helps you design a unique logo for your brand. The text generator comes in handy when you're struggling to come up with content for your website. The image optimizer ensures your images are of the right size and quality for web use. Last but not least, SEO optimization helps improve your website's visibility on search engines.
Thanks to all these features, the platform is incredibly fast and easy to edit, offering attractive, modern, and mobile-responsive designs. Wix ADI has built a stellar reputation for itself as one of the most innovative website builders in the market.
Read our full Wix website builder review.
Best all-in-one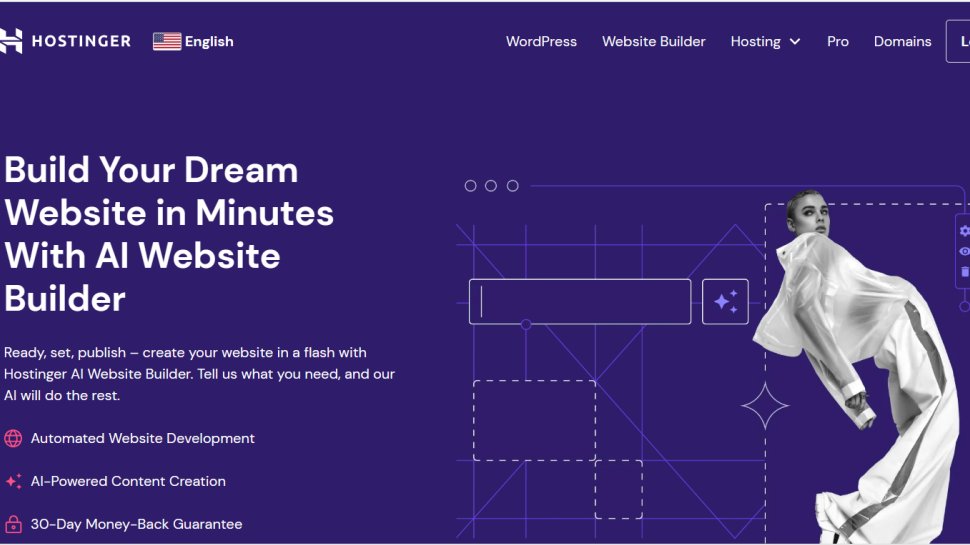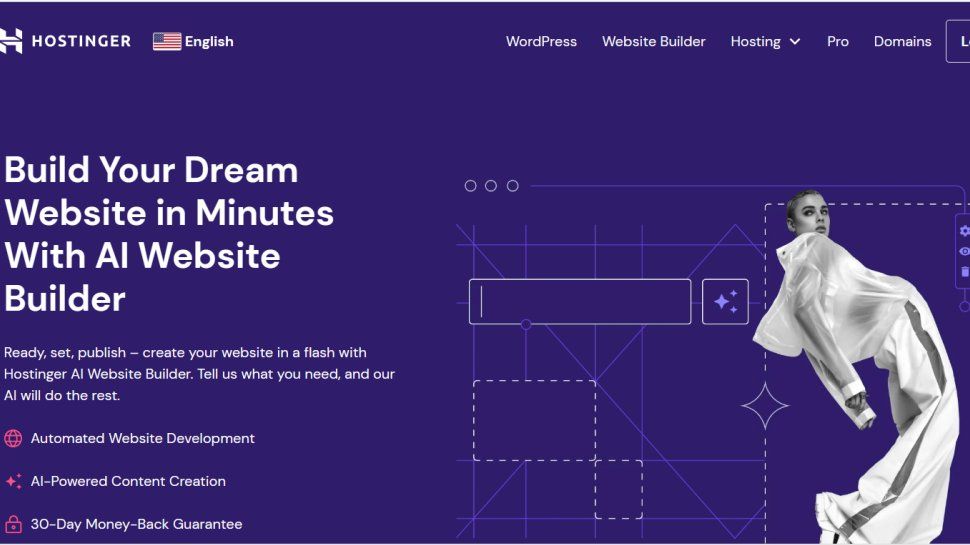 Those who want to create a website quickly and efficiently will find Hostinger AI Builder to be an excellent choice. This AI-powered website builder provides an all-in-one solution for building websites at superb speed and with ample storage, all at an affordable price. 
Hostinger AI Builder provides quite a few advanced AI features that can significantly simplify the website-building process. First, it provides automated site generation, allowing users to quickly create a fully functional website in an instant. Next, the platform includes an AI-powered writing assistant and image generator, which can help you come up with compelling content and visuals for your website. 
Moreover, the AI logo maker allows you to design professional logos that effectively represent your brands. Lastly, Hostinger AI Builder's AI heatmap tool can help you analyze your website's traffic patterns and user behavior, equipping you with the information you need to enhance user experience and engagement.
Hostinger AI Builder offers plans starting at just $2.99 per month, making it an ideal choice for beginners in website building and small business owners. The platform's AI features are remarkably user-friendly and straightforward, especially when compared to other website builders like Wix ADI or SITE123. However, these AI functionalities might not be suitable for more complex websites or those with specific requirements.
Read our full Hostinger Website Builder review.
Best for WordPress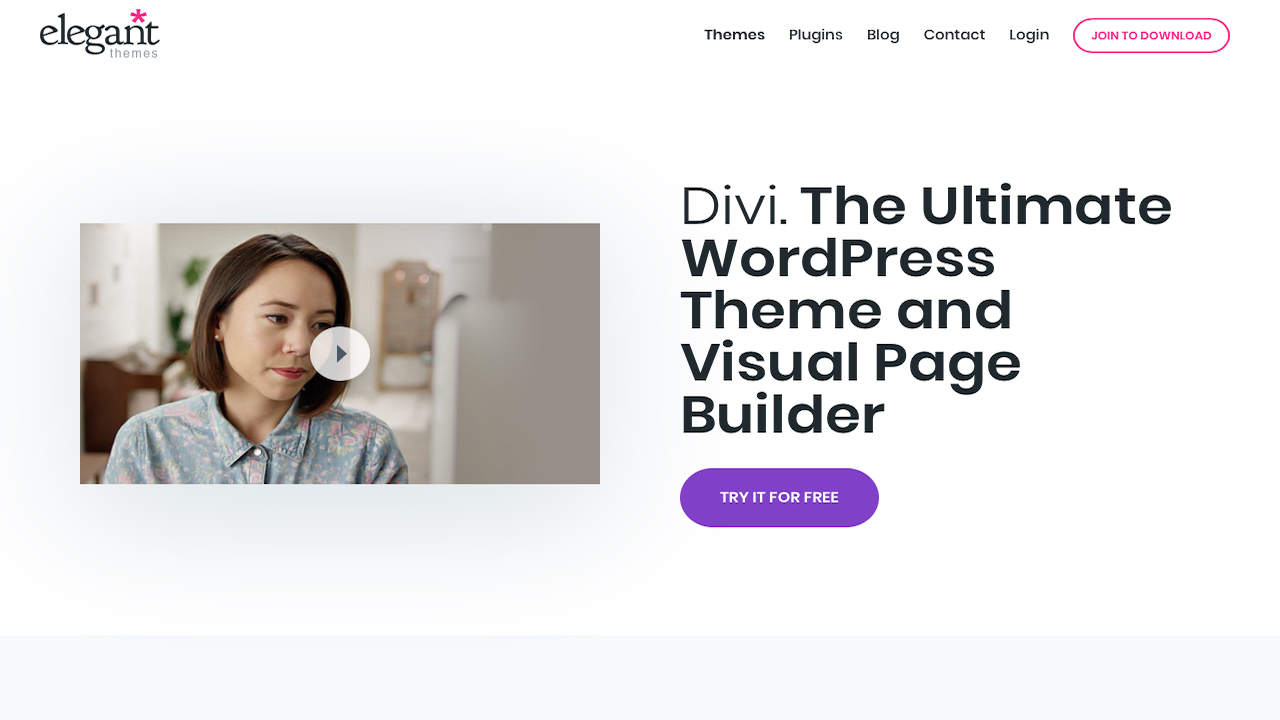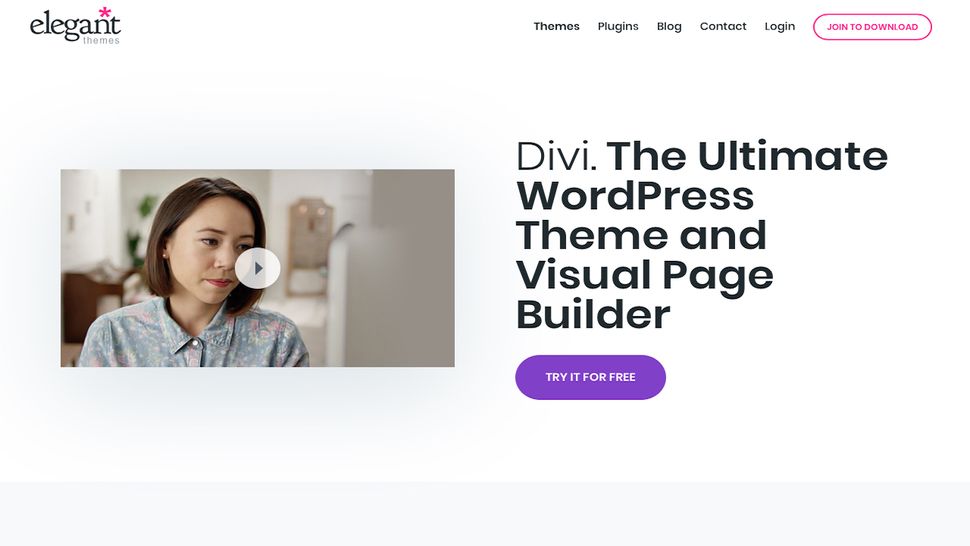 Divi AI is one of the leading AI-powered website builders that is specifically designed for WordPress users. It seamlessly integrates the versatility of WordPress with the cutting-edge capabilities of AI, enabling users to craft visually stunning and functional websites effortlessly. 
With Divi AI, the website creation process is further streamlined through its extensive library of over 320 fully customizable layout packs. With it, you can swiftly build your online presence without compromising on design quality.
While Divi AI doesn't have any significant cons worth mentioning when it comes to web design, Divi theme comes with some shortcomings. For instance, there are constraints on creating multiple columns in some themes within the section. Meanwhile, the abundance of shortcodes might contribute to slower site speed at times.
The subscription plans start from $18 per month when billed annually, making Divi a cost-effective option for individuals and businesses leveraging the potential of AI in their web development endeavors. 
Divi AI is ideal for busy entrepreneurs and small business owners. Its user-friendly interface and comprehensive design capabilities will enable you to boost efficiency and minimize expenses. With the support of AI technology, creating professional-grade websites has never been easier.
Best for marketing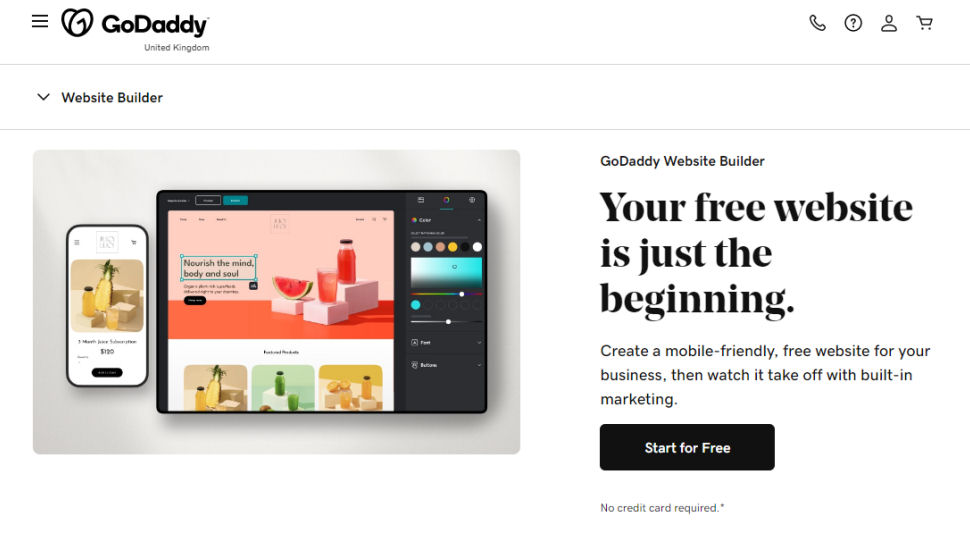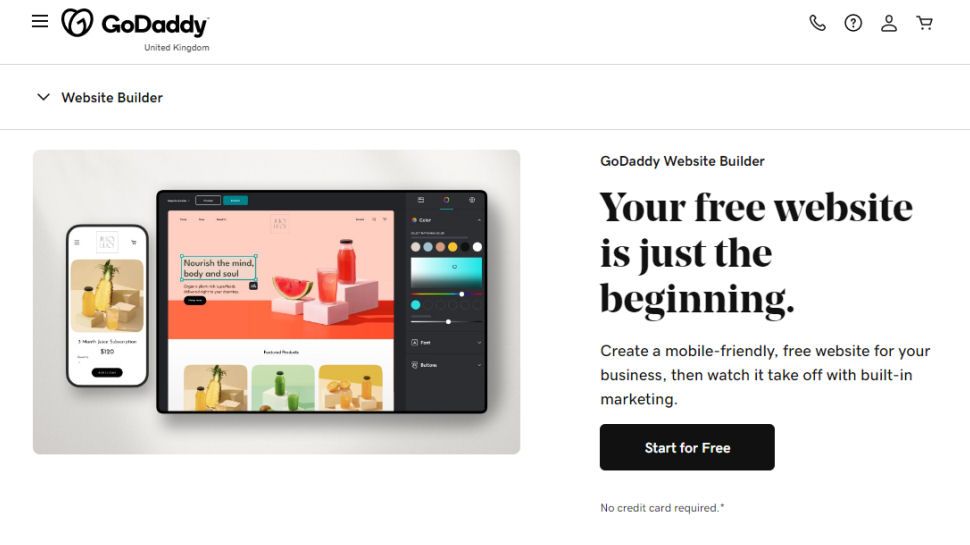 GoDaddy AI Builder is the go-to solution for individuals or businesses in search of an AI-powered website creation tool seamlessly integrated with top-notch marketing tools. A standout in the market, this platform boasts an impressive array of features that include automated SEO optimization, AI-generated copy, and insightful AI-driven guidance, all designed to facilitate the creation of dynamic and impactful websites.
Whether you're a beginner or an experienced user, GoDaddy AI Builder's user-friendly interface and comprehensive toolkit ensure that your website is not just functional but also aesthetically pleasing.
As for pricing, GoDaddy AI Builder offers plans starting as low as £6.99 per month, making it an affordable option for anyone aiming to establish a striking and effective online presence.
The website builder's user-friendly interface simplifies the design process with an array of customizable templates and convenient drag-and-drop functionality. Recent enhancements include an expanded suite of AI tools, catering to the needs of small business owners seeking to leverage the latest technologies.
What sets GoDaddy AI Builder apart is its focus on integrating marketing tools seamlessly into its website building. This integration empowers you to effortlessly implement effective marketing strategies while creating and maintaining your online presence, ensuring optimal outreach.
However, integration with other GoDaddy services, although streamlined, might require a modest learning curve for those new to the platform. Additionally, users with a preference for extensive customization options might find the level of customization provided by GoDaddy AI Builder somewhat limited.
Read our full GoDaddy Website Builder review.
Best for web design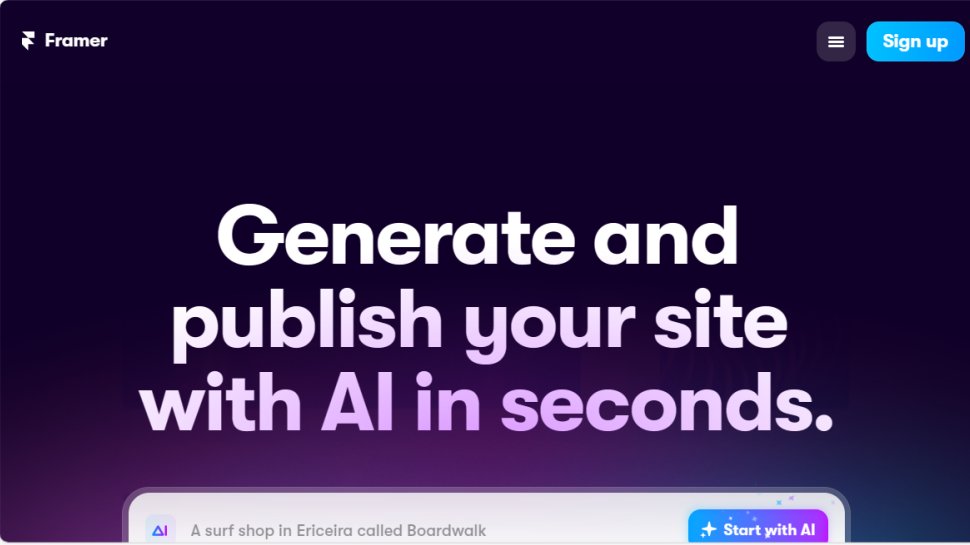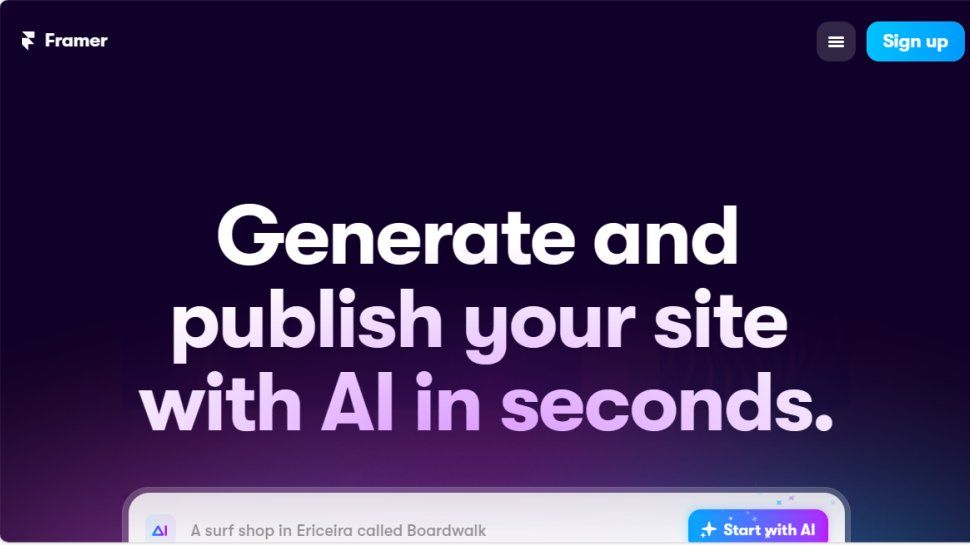 Framer AI revolutionizes the web design process by integrating AI-powered tools that effortlessly create personalized layouts and content. By simply entering a text prompt, you can generate an entire website design. This makes it a particularly attractive option for those who enjoy blending creativity with cutting-edge technology.
Moreover, Framer AI introduces a user-friendly visual editor that requires no coding expertise, meaning you can personalize your websites with ease. This feature caters to the needs of designers seeking efficient solutions without compromising on quality, as well as small business owners aspiring to establish a polished online presence using AI tools. 
With Framer AI, you can publish a basic project free of charge, or opt for an upgrade to access a personal site hosted with a custom domain and a content management system (CMS). The paid plan includes integrated site analytics and a staging site, providing more advanced features for your website management. Furthermore, if you're seeking a head start, Framer AI offers both free and premium templates.
However, it's important to note that while Framer AI's AI-generated drafts are impressive, some users may find the transition from initial drafts to a final polished website requires further refinement.
Best for affordability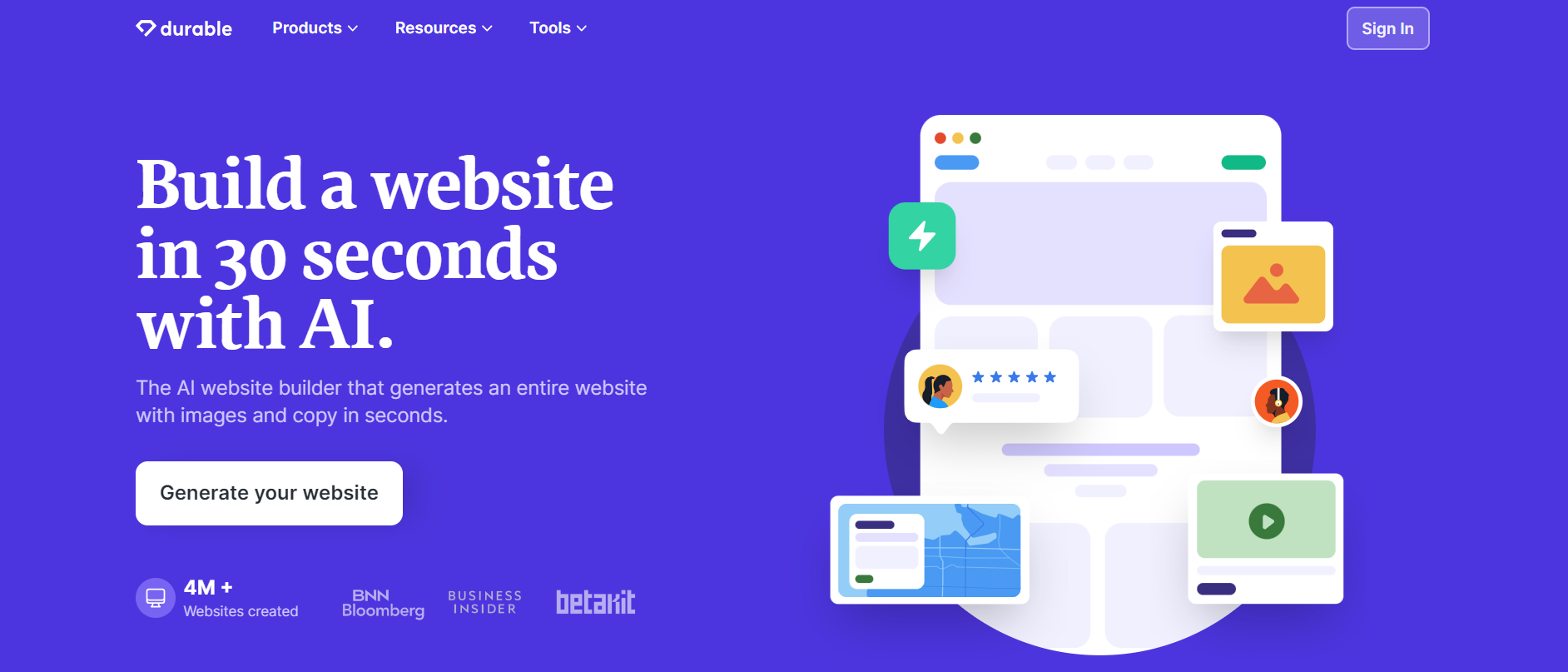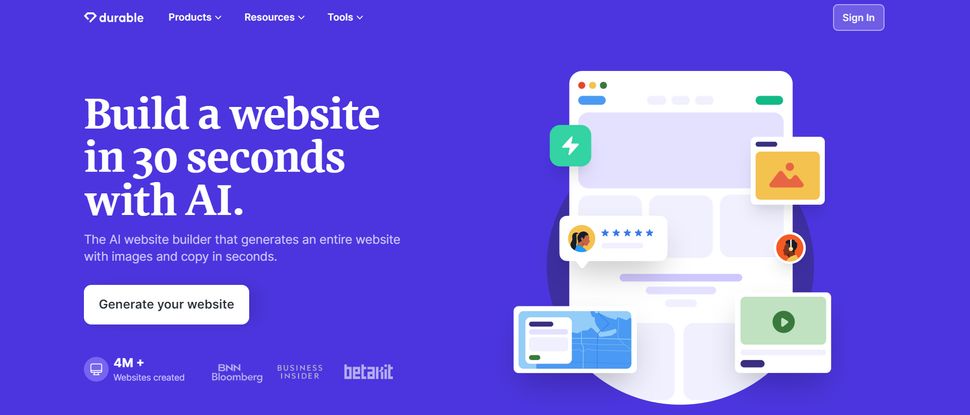 Durable is a rock-solid choice, particularly for solopreneurs who are seeking a user-friendly, cost-effective solution to kickstart their online journey. This AI website builder offers a range of impressive features to empower your website creation process. From automated SEO optimization to AI-generated copy and a nifty business description feature, Durable packs a punch.
One of the standout characteristics of Durable is its commitment to simplifying the web development process. It doesn't just stop at the basics – it caters to your specific needs by offering industry-specific features and AI-driven tools for both design and content enhancement. So whether you're a tech wizard or an absolute beginner, you can feel right at home.
Durable's affordability is another major feather in its cap. With monthly plans that fit your budget, ranging from just $12 to $20, freelancers can have access to a professional-grade website builder without breaking the bank.
When it comes to user-friendly website creation, Durable stands out as a true champion. Its simple workflow surpasses many other tools in the industry. By leveraging your industry, location, and business name, Durable takes the lead in generating a complete website, complete with content, images, and a handy business location map. Its array of features and its focus on simplicity make it a reliable choice for anyone looking to build an eye-catching online presence for their business or online store.
On the downside, while Durable provides an accessible platform for website creation, some users may find themselves restricted by the level of customization options available. Also, Durable AI heavily relies on significant amounts of data for learning and decision-making. Consequently, its performance might be compromised when faced with limited or biased data.
Best for website migration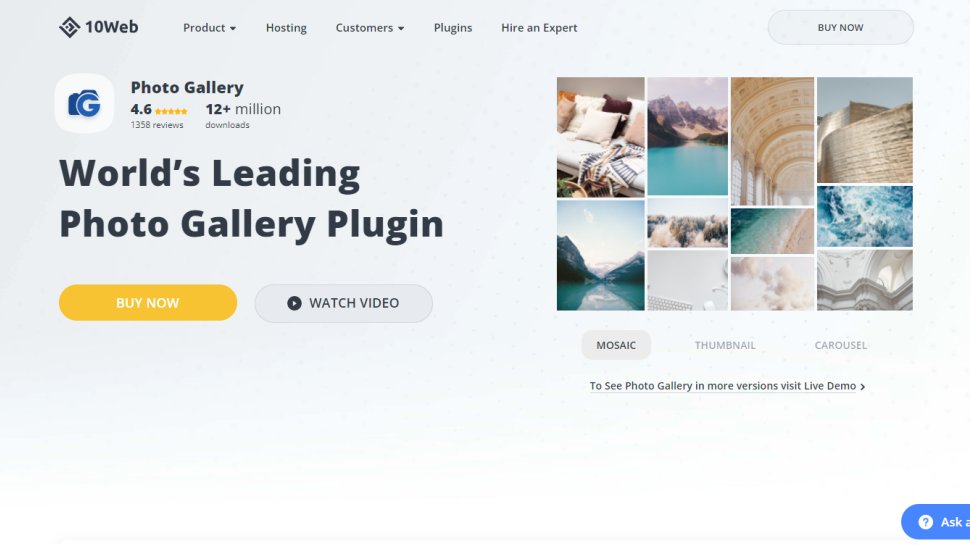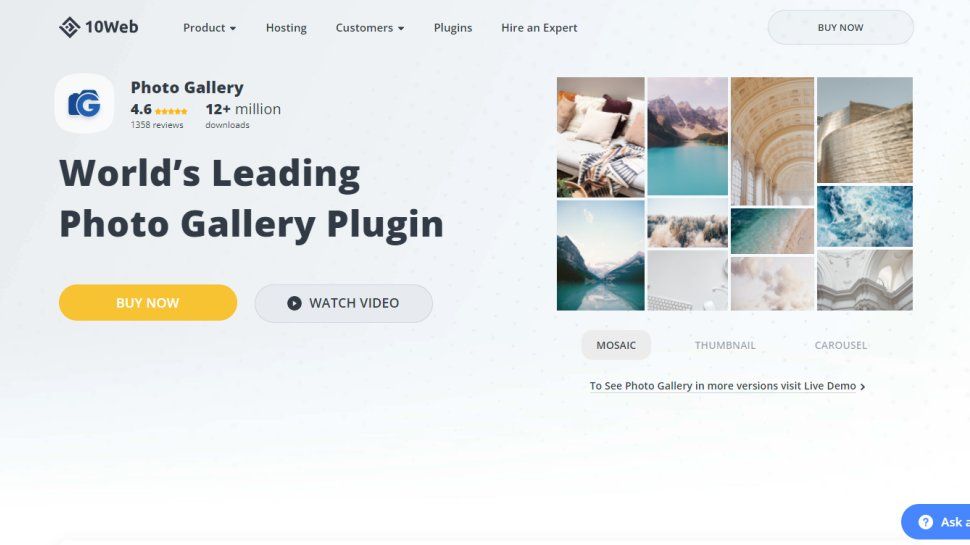 10Web, another prominent player in the realm of AI-powered WordPress solutions, excels in offering an array of features designed to simplify website creation and management. It seamlessly integrates AI writer capabilities and a user-friendly drag-and-drop editor, making the process of crafting professional websites an effortless endeavor. 
Pricing plans for 10Web start as low as $10 per month for the Personal plan, making it an accessible option for those aiming to leverage AI technology within their WordPress ecosystem without breaking the bank. 
A standout feature of 10Web is its seamless website migration capability, allowing users to effortlessly recreate their existing WordPress site simply by utilizing the website's URL. Once imported, users can easily edit the website within the editor, which offers an extensive range of AI tools for content creation and SEO optimization.
What's more, 10Web proves to be a valuable asset for the creation, hosting, and management of new WordPress websites. Its AI web designer streamlines the process by prompting users with a series of targeted questions about their business and allowing them to choose from three template options. Then, by using that information, the AI web designer populates the layout with text and images.
But it's important to remember that the AI website builder has some limits when it comes to customizing your site. Even though you can use the drag-and-drop feature to change things and line them up how you want, you might not have complete freedom to move everything exactly as you'd like.
Read our full 10Web website builder review.
Best for novices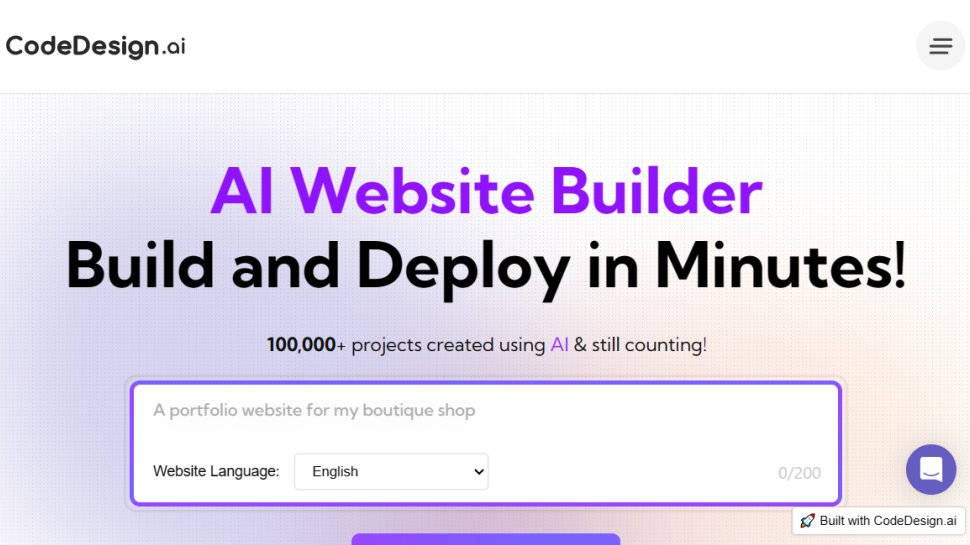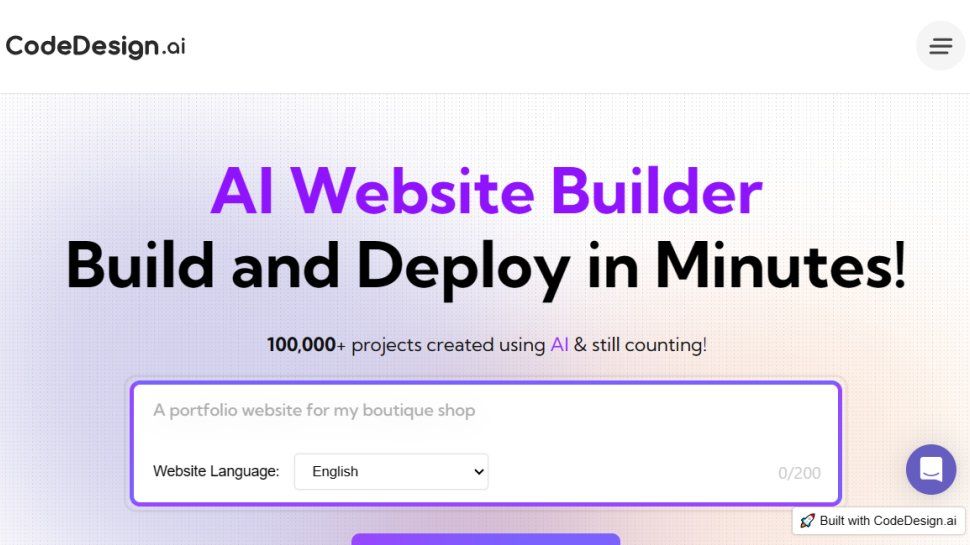 CodeDesign.ai distinguishes itself as an exceptional website builder, tailored for novices and designers alike, through the integration of advanced technological capabilities. Simplifying the complexities of website development, the platform provides an array of exciting features that facilitate an intuitive and streamlined website-building experience.
These features include AI-generated copy, automated SEO optimization, and AI-driven insights, making sure you can create compelling content and optimize your website for maximum visibility and reach.
Moreover, the appealing AI Magic feature is a standout addition, enabling users to effortlessly craft captivating marketing copy while seamlessly aligning text and other elements with their brand's unique identity. This tool's dynamic interface allows for unlimited design regeneration until the perfect fit is achieved, making the website customization process a breeze.
For those concerned about budget, CodeDesign.ai offers an accessible entry point with plans starting at just $9 per month for basic needs. This affordability, combined with the platform's advanced feature set, positions CodeDesign.ai as an appealing choice for many. So, if you're seeking a user-friendly website-building experience without compromising on the sophistication and depth of features, CodeDesign.ai is worth a look.
On the flip side, there are some reasons why certain users might prefer to steer clear of this particular platform. Firstly, the limitation of plans to just one site might pose a hindrance for individuals or businesses aiming to manage multiple websites simultaneously. Moreover, the platform's limited customer support options could present challenges for users in need of immediate or extensive assistance.
Still, CodeDesign.ai's innovative approach to web design is perfect for beginners, providing the means to create visually striking and fully functional websites with ease.
Best for sales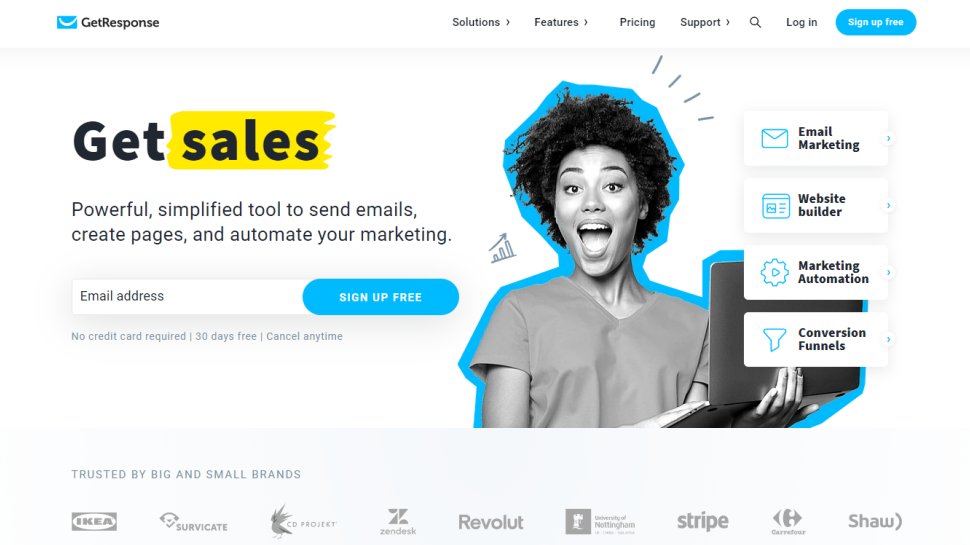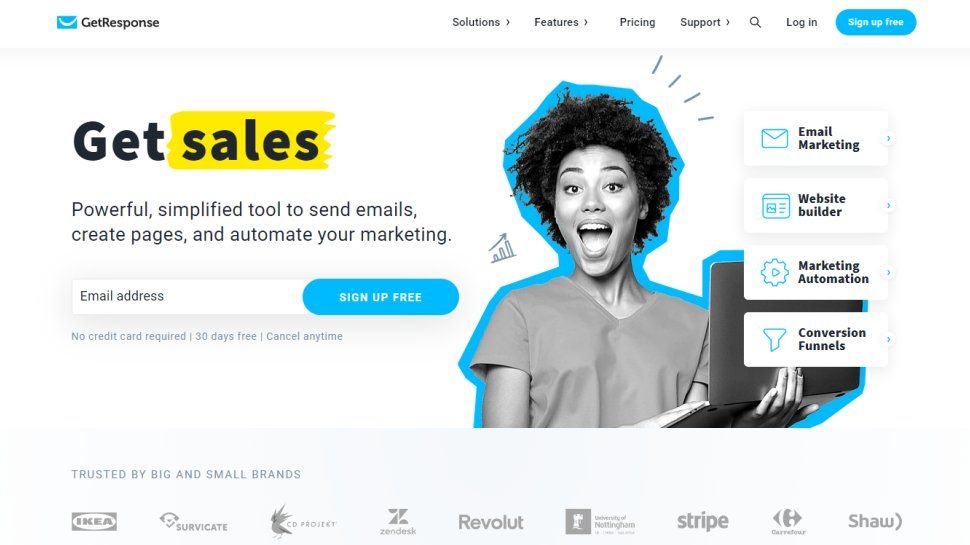 As the ideal all-in-one marketing platform, GetResponse AI Builder smoothly integrates an AI-powered website builder with an array of robust marketing tools, which can significantly elevate your online presence and marketing efforts.
You can create your customized website by simply responding to a brief set of questions tailored to your business requirements. Alternatively, you can choose from a variety of templates and utilize the intuitive drag-and-drop editor to personalize your design. 
GetResponse AI Builder excels in creating beautiful and fully functional websites that can cater to all types of business needs and preferences. Leveraging the power of AI, GetResponse AI Builder offers users an array of advanced features, including AI-generated content, images, and design elements, streamlining the website creation process.
Furthermore, the platform comes equipped with built-in SEO and content creation tools, which lets you optimize your websites for improved search engine visibility and enhanced user engagement.
While GetResponse offers a drag-and-drop interface for creating landing pages and forms, our experience with these features is somewhat cumbersome and calls for improvements for smoother navigation and usability.
Best for customization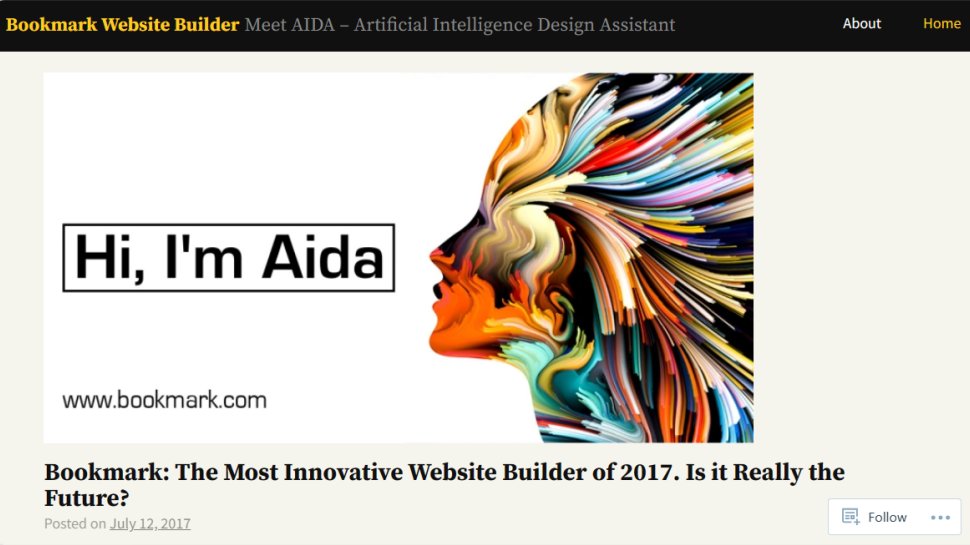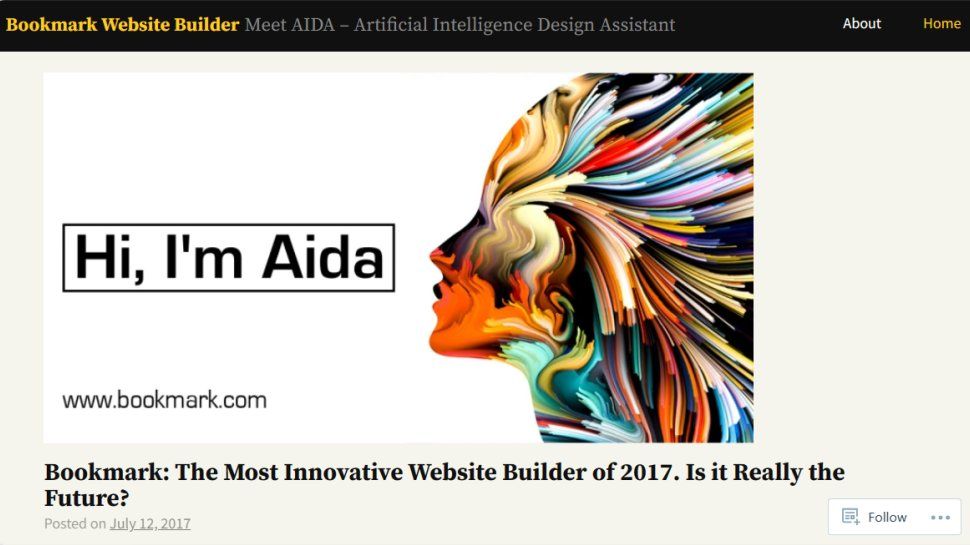 Bookmark AiDA offers a wide variety of features designed to empower users in their website creation journey, including the utilization of proprietary machine learning algorithms that swiftly construct personalized websites in less than two minutes. By automating the website creation process, Bookmark AiDA eliminates the need for coding proficiency, technical knowledge, or intricate design skills, ensuring that users can effortlessly bring their website vision to life.
Moreover, the inclusion of interactive online forms facilitates easy engagement with website visitors, which enhances the overall user experience. The platform's e-commerce integration streamlines the process of setting up online stores, enabling businesses to effortlessly establish their online presence and drive sales.
Moreover, all websites created through Bookmark AiDA are hosted on the Amazon Web Services (AWS) cloud, renowned for its top-tier reliability in cloud hosting services. A notable feature ensuring the safety of user data is the automatic daily backup system, providing an additional layer of security and peace of mind.
While Bookmark AiDA can seem like an attractive choice for both individuals and businesses seeking to create highly customized websites with the assistance of AI technology, it could be much more customizable.
---
Best AI website builders FAQs
What is an AI website builder? 
Why you can trust TechRadar
We spend hours testing every product or service we review, so you can be sure you're buying the best. Find out more about how we test.
 An AI website builder is a tool that uses artificial intelligence technology to simplify the website creation process. It employs sophisticated algorithms and machine learning capabilities to guide users through the entire website creation process.
By automating tasks such as content generation, design customization, and even SEO optimization, AI website builders enable users to build beautiful and professional-looking websites with minimal effort and technical expertise.
As a rule, these platforms provide a wide variety of customizable templates and other options, ensuring that users can create unique and engaging websites tailored to their specific needs.
Website builder vs AI website builder: What's the difference? 
The main difference between a traditional website builder and an AI-powered one lies in the technology used. While a traditional website builder provides standard tools for website creation, an AI website builder leverages artificial intelligence to streamline the process further.
Unlike standard site builders, AI-powered ones can offer personalized design recommendations based on user preferences and industry-specific best practices. They often provide automated content creation, image optimization, and even intelligent SEO guidance, significantly streamlining the website development process. This results in a more intuitive and user-friendly experience, allowing users to create sophisticated and visually appealing websites that are optimized for a seamless online presence and enhanced user engagement.
What is the best AI website builder for beginners? 
 For beginners, an ideal AI website builder offers a combination of user-friendly features and comprehensive guidance throughout the website creation journey.
Platforms like Wix, Hostinger, and GoDaddy are popular and rock-solid choices, providing intuitive drag-and-drop interfaces, extensive template libraries, and responsive customer support to assist beginners at every step.
These AI-powered platforms also offer additional resources such as step-by-step guides, informative blogs, and community forums, enabling users to learn and grow their website development skills effectively. With a focus on simplicity and accessibility, these AI website builders can empower beginners to build striking websites that reflect their unique brand identity and the vision behind them.
How to choose the best AI website builder for you? 
To choose the best AI website builder for you, it's important to look at a few key factors.
First, look at the level of customizability. Different AI website builders offer different degrees of customization. Some provide more flexibility in terms of templates, themes, fonts, colors, and layout options, allowing you to create a website that truly reflects your unique style and brand.
Next, check the user interface. You'll want an AI website builder that is easy to navigate and understand. Look for one with a simple and visually appealing interface, making the process of website creation a breeze, even if you're not a tech expert.
Now, take a deep look at available features. Some may have unique tools for SEO optimization, while others might provide advanced analytics or integrated e-commerce functionality. 
Also, the best AI website builder should be easy to use, even for those with minimal technical expertise. Look for platforms that simplify the website creation process with intuitive drag-and-drop functionalities and straightforward editing tools.
Check the level of customer support provided by the AI website builder. A platform with responsive and helpful customer support can be invaluable, especially when you encounter technical issues or have queries about specific features.
Lastly, compare the pricing plans of different AI website builders and determine which one fits your budget. Determine the value you're getting for the cost and choose a plan that matches your website needs and budget.
Considering these factors will help you find the AI website builder that matches your needs best, and make it easier for you to create an awesome online presence without any hassle.
We've also listed the best AI tools.
You've reached the end of the page. Jump back up to the top ^
[ad_2]