People Like Us, the award-winning not-for-profit, proudly introduces its newly formed working board, a powerhouse of industry leaders committed to advancing diversity and inclusion in the fields of journalism, PR, and marketing. The board will be co-chaired by co-founder Sheeraz Gulsher and Tobi Ruth Adebekun, a talented member of the regional Netflix communications team and Deputy Chair of the board at the Barbican Centre.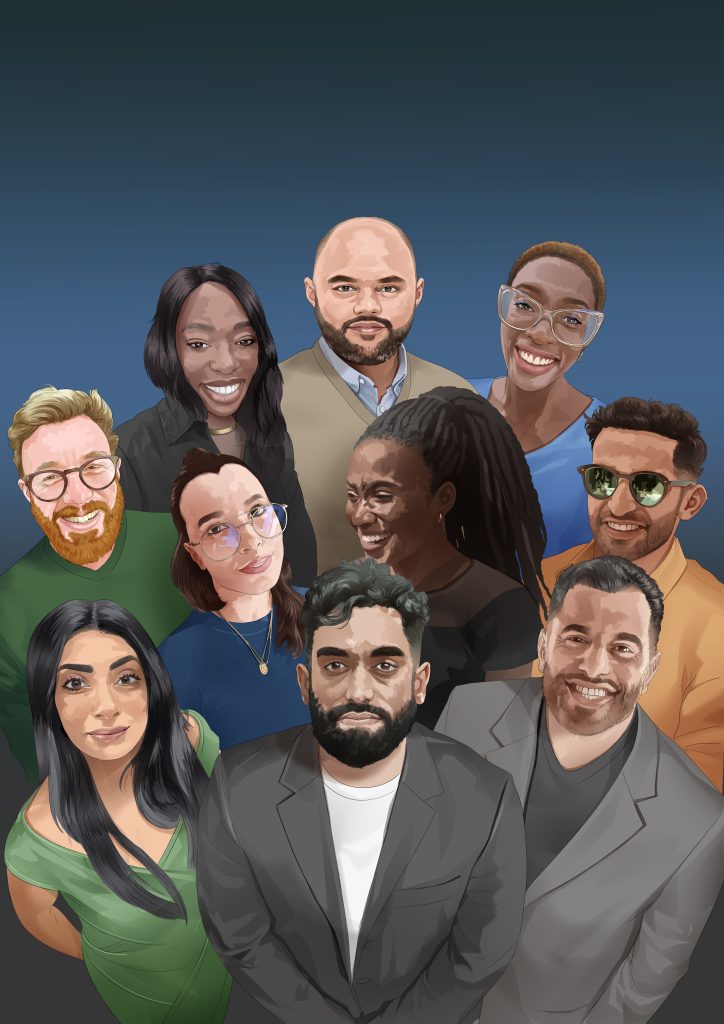 Founded by brothers Sheeraz Gulsher and Darain Faraz in 2020, People Like Us has achieved remarkable growth since its inception. The organisation's hallmark is quarterly events that illuminate voices from ethnically diverse backgrounds, creating opportunities for professionals to shine. Past event collaborators include illustrious brands such as LinkedIn, Samsung, Sony Music, and the England & Wales Cricket Board. Furthermore, the organisation offers support to individuals in securing new roles, consults with organisations on diversity and inclusion strategies, and passionately advocates for mandatory ethnicity pay gap reporting.
Applications for the People Like Us working boardroles opened last year, inviting professionals with five or more years of experience to join in bolstering the organisation's growth.
Tobi Ruth Adebekun, co-chair of People Like Us commented: "Like many other people, I have left every People Like Us event over the last four years, inspired by the people I've met and the stories I've heard. I'm thrilled to join as co-chair and work with such a fantastic group of individuals to help shape the organisation's crucial next phase. The next year promises to be full of progress, collaboration and building more community."
Sheeraz Gulsher, co-founder, and co-chair of People Like Us commented: "It's been an immense privilege steering People Like Us for almost four years now, striving to foster inclusivity in the industry by making incredible role-models from all backgrounds more visible. We are proud of our achievements to date and are grateful to all of our allies for their brilliant ongoing support. With the addition of this dedicated and exceptional board, we're poised to elevate our mission. We have big ambitions in our industries and beyond, and we're excited to unveil this next chapter for People Like Us over the coming months."
Meet the Board:
Sheeraz Gulsher – Co-founder and Co-chair
Sheeraz is an award winning PR professional with over a decade of experience both in-house at Sky and Snapchat, and at agencies including Hope&Glory and PrettyGreen. Sheeraz is a passionate campaigner for equal pay for ethnically diverse working professionals in the UK.
Tobi Ruth Adebekun – Co-chair
Award winning multidisciplinary PR professional. Currently at Netflix, previously at Snapchat. Passionate about culture, arts and community. Mentor at the University of Nottingham. Deputy Chair of the Barbican Centre Board. French speaker and lover of all things adventure and travel. Big fan of the sunshine. 
Darain Faraz – Co-founder and Director of Communications
As a People Like Us co-founder and former International Brand Marketing Director at LinkedIn (where he worked for over a decade), Darain boasts a track record of crafting top-performing, award-winning campaigns. His industry accolades include coveted Cannes Lions awards, and he is a frequent presence on Marketing Week and PR Week's top 100 lists. Currently based in Suva with his family, Darain also serves as the VP of the PTA for Fiji's largest school. Amidst these commitments, he is actively pursuing a range of passion projects, with a heightened focus on contributing more to the mission of People Like Us.
Baljit Kaur Gill – Director of Partnerships
Bal is a seasoned consumer marketing leader with over 15 years of strategic communication expertise. Her portfolio includes household brands such as MAC Cosmetics, Müller, and Mondelez. Baljit's core passion lies in championing women's rights, particularly in the South Asian space and the workplace. Outside of work, she embraces the role of a dedicated mother to two children, exploring life through their eyes.
Jay Safdar – Director of Digital and Social
Jay boasts a wealth of experience from client-side roles, overseeing brand and performance marketing at companies including American Express, John Lewis, Barclays, EE, Amazon, and HSBC. Presently, he leads Growth Marketing at a prominent B2B FinTech company, WEX, where he manages media and creative strategy across eight EMEA markets. When not immersed in the digital world, Jay enjoys indulging in house music and savouring delectable cakes, all while balancing his passion for fitness and plant care.
Tim Clancy – Director of Marketing and Research
Tim is a marketer currently contributing his expertise to LinkedIn. His career spans across market research and brand strategy agencies, where he has skillfully employed his data-driven and storytelling talents. Over the past two years, he has played a pivotal role in analysing research conducted by People Like Us. Tim is excited to join the board and continue building awareness and fostering a positive perception of People Like Us.
Tanya Wilkinson – Director of Events
Tanya is a distinguished leadership coach, intersectional DEI & Sustainability strategic advisor, and Founder of Green in the Grey. Tanya possesses a wealth of experience spanning 14 years in corporate marketing, entertainment, events, branded content, and ESG. Throughout her career, she has held significant roles such as head of marketing partnerships & events for Formula 1 globally and business director for Drum (Omnicom Media Group). Tanya has also led Virgin Media's V Festival headline sponsorship and contributed to frontline label marketing at Columbia Records (Sony Music) and Geffen Records (Universal Music), representing artists like Calvin Harris and Mark Ronson.
Kristianah Fasunloye and Shaline Manhertz – Joint Directors of Stakeholder Engagement
This dynamic duo collectively bring 50 years of strategic communications and engagement expertise acquired in central and local government driving transformative change in governmental systems. Heading up communications and media teams on instrumental and impactful projects, including:
● Establishing a lasting legacy from the 2012 London Olympic and Paralympic
Games.
● Pioneering efforts to enhance maternity services safety for mothers and babies
through the Ockenden Maternity Review, the largest ever review of an NHS service.
Kristianah and Shaline use their wealth of understanding of the best government
policies, processes, and systems and implement them in other industries.
Fahad Ahmed – Treasurer
Fahad is a highly experienced finance professional that has advised PR, marketing and advertising agencies for over a decade. Most recently, Fahad led commercial and operational finance in his role at multi award-winning agency Ketchum as its finance director. Fahad was also part of a number of high-profile client wins including Adobe and Danone. 
Source: People Like Us
  Baljit Kaur Gill, Darain Faraz, Fahad Ahmed, Kristianah Fasunloye, People Like Us, Shaline Manhertz, Sheeraz Gulsher, Tanya Wilkinson, Tim Clancy, Tobi Ruth Adebekun
Source link